First of all I want to thank everyone for your care and concern before and after the unfortunate landfall of Hurricane Ike. Your kind thoughts and prayers were appreciated more than I can even try to convey.
We evacuated to Uvalde on Thursday before the storm. The water was already on our fishing dock when the storm was still 200 miles out, so saw we had a problem brewing.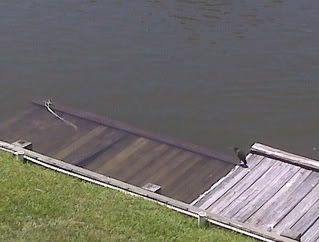 We decided to take only the one car. We were concerned about the traffic and gas shortage that the Rita evacuation had caused. We loaded the 6-pack into carriers and headed out. Rafe sang with Jimmy Buffet most of the 7 hour drive, so we were not without entertainment.
We got settled and like everyone else watched the giant storm slowly make it's way to across the Gulf Coast. Rafe and Rhett were happy to be at Gramma's house. RicoDammitt who is always up for an adventure, made his own fun.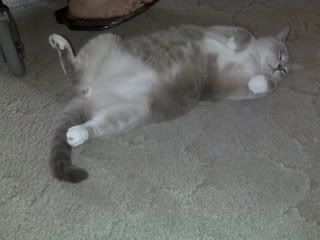 Rafe relaxes after the long trip
Saywer and Charlie waited for nightfall to check everything out.
Kate hid in the closet.
After Ike came through, we started getting reports on local message boards and such that our neighborhood got hit pretty hard. We found out we were to be allowed to return on Tuesday, but not knowing what we would find hesitated driving back with 6 cats. One of my co-workers generously offered to house them in an empty bedroom she has so with the 6 pack loaded up we headed back.
The drive back was much shorter, but the lines for gas were long. We were (sort of) glad we only brought the one car. Rafe sang with Laura Fygi for awhile, then took a long nap.
Once we got back to Houston, we dropped off the cats. The room they were assigned to was completely empty. This seemed like the perfect solution. About 10 minutes after we left my friend called to say they had opened the closet and popped her exercise ball. Only MY cats can cause damage in 10 minutes in an empty room....lol.
At least that closet gave Kate had a place to hide, and she did!
The Gulf freeway was closed, but we found we could get entry with ID by traveling down hwy 6. The closer we got to home, the worse it looked. Snapped power poles, trashed vehicles and torn up roofs littered the landscape. We had to wait in line at the check point and the anticipation almost did me in. Coming up to our turn, we start seeing the real carnage. There were boats, jet skis, refrigerators, trees, decks, stairs, and God knows what all strewn throughout the neighborhood. It looked like a war zone. There was even a house floating in the canal.
Finally we got to our house and it was still standing!!!!
We walked around the back first. The debris is unreal.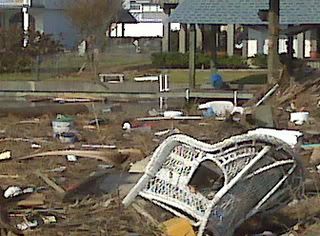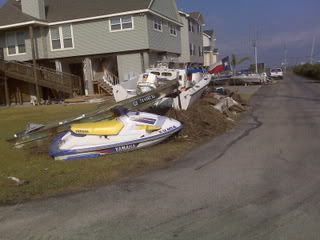 On the corner...2 boats AND a jet ski!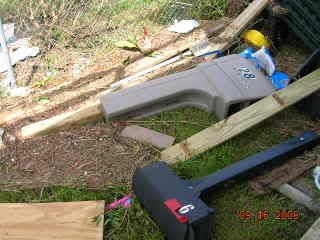 My neighbors get boats, I get mail boxes...not fair!
The fence is bent, but still standing. The dock and bulkhead are intact. The screens are blown out of the porch but the structure and even the stairs are also intact.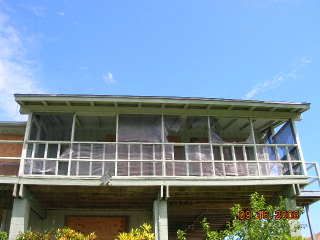 The truck and AC unit took a lot of water, but are not blown away.
We are blessed.
Then we go inside.. YUCK.
The water line is just over 3 feet, much less than some our neighbors have reported but 3 feet is enough to trash the entire first floor.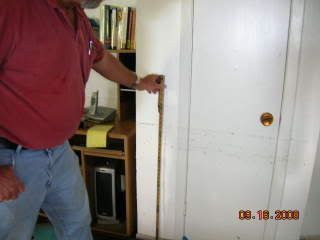 The water line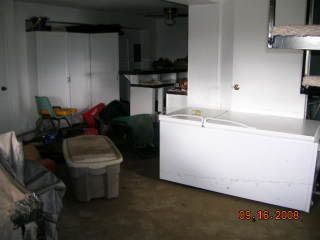 Fridge dumped, beer opener/magnet OK!!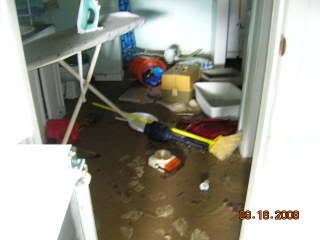 Bathroom trashed, but cat poop floats.
The litter is dry!
Upstairs is exactly how we left it. We are blessed, but can not stay here. There is no electric or sewer. The stench is unreal. The police are only allowing look and leave by 6pm for now.
John's employer offered us a vacant apartment he owns. We are blessed yet again. This place is only a few miles from the house. The power is on. We loaded up the 6 pack and brought them over. 5 cats had a good time exploring. Kate hid in the closet.
The next day we got far enough in the house that we can bring home the cats, but had to keep them in the office until we can cover the stairwell. I can't let them down where we are spraying Clorox and such. Surprisingly they seemed satisfied hanging out in there. Rico took his usual place on my desk and seemed confused as to why we were not working. The others sat in the window or snoozed in cat beds except Kate, who hid in the closet.
Yesterday we got a welcome delivery...Port-O-Potties!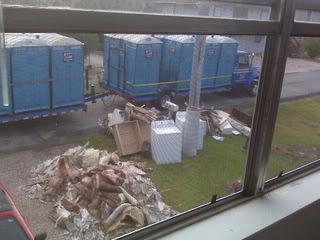 We also got the stairwell covered so the cats can now move around again.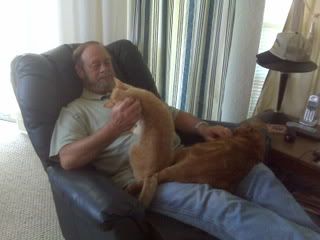 No place like Paw's lap!
NoRhett is determined to defeat that tarp so he can see what is down there. What is that they say about curiosity?
Anyways....
They seem happier and Kate has moved from the office closet to under the bed.
Now THAT's progress!
More later.....PJ:)
The Carnival of Cats is up and running over at
Chey's Place